5th Grade GATE 2016-17
about 1 year ago
Engineering Design Challenge
Students learned about force, motion and structure. Student teams built a catapult that launched a projectile the furthest distance possible. Then redesigned the catapult for accuracy and tried to hit a target at a set distance.

Marble Roller Coaster Design
Student teams built a roller coaster to investigate how much height is required in order for a marble to run through a loop of a fixed size. Science Buddies Staff. (2014, October 22). Roller Coaster Marbles: How Much Height to Loop the Loop?. Retrieved February 18, 2017 from http://www.sciencebuddies.org/science-fair-projects/project_ideas/Phys_p036.shtml
The Science of M&M's
Students learned and applied the scientific method. Student teams made predictions about the number of M&M's in each bag. Other questions included: How much does an M&M weigh? How many of each color are in the bag?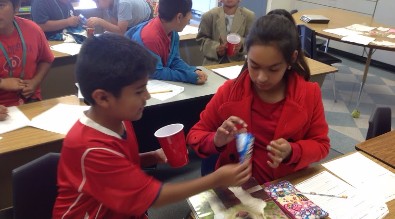 Create a Plankton
Student teams created and named a plankton using the binomial nomenclature discussed in class to come up with a new scientific name for their plankton. Focus questions were: How are new species discovered and named? What is the life cycle of the ocean involving plankton?