5th Grade GATE 2016-17
7 months ago
Engineering Design Challenge
Students learned about force, motion and structure. Student teams built a catapult that launched a projectile the furthest distance possible. Then redesigned the catapult for accuracy and tried to hit a target at a set distance.

Marble Roller Coaster Design
Student teams built a roller coaster to investigate how much height is required in order for a marble to run through a loop of a fixed size. Science Buddies Staff. (2014, October 22). Roller Coaster Marbles: How Much Height to Loop the Loop?. Retrieved February 18, 2017 from http://www.sciencebuddies.org/science-fair-projects/project_ideas/Phys_p036.shtml
The Science of M&M's
Students learned and applied the scientific method. Student teams made predictions about the number of M&M's in each bag. Other questions included: How much does an M&M weigh? How many of each color are in the bag?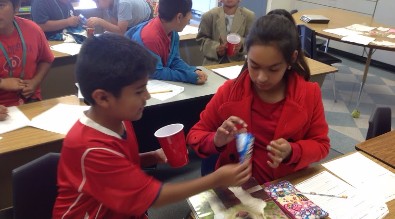 Create a Plankton
Student teams created and named a plankton using the binomial nomenclature discussed in class to come up with a new scientific name for their plankton. Focus questions were: How are new species discovered and named? What is the life cycle of the ocean involving plankton?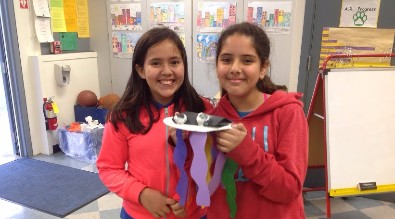 Pepperdine University - January 19, 2017

Third through fifth grade GATE students visited Pepperdine University. Students had the opportunity to meet and have a Q & A session with a current student and member of the Pepperdine Latino Student Association.
California Oil Museum - February 23, 2017

Third through fifth grade GATE students participated in a workshop titled The Wonderful World of Rocks and Minerals. The hands on activity is described as follows "The progression from elements to minerals to rocks are covered. The secrets of the Rock Cycle are examined as students go through the mineral makeup and formation of the 15 samples rock types examined with microscopes and hand lenses. They understand how rocks physically change as they go from one part of the cycle to another. The importance of rocks and minerals in our lives and how we use them are also highlighted."
5th Grade GATE at Ormond Beach - March 24, 2017

Our excursion to Ormond Beach was organized in collaboration with our natural science education partners at the MERITO Foundation (Multicultural Education For Resource Issues Threatening Oceans). Students participated in a shore bird identification survey. The data will be entered into a bird count database for this site. Students also tested the water quality of the canal that feeds into the Ormond Beach wetlands. They tested for water PH levels, dissolved oxygen levels and turbidity. Finally, we ended our day with a beach clean-up. Students took a survey of the different debris that contaminate our local marine environment.
Our marine education partners at the MERITO Foundation sponsored this field trip to Santa Cruz Island. The 5th grade GATE students who participated learned about the Channel Islands National Marine Sanctuary and ocean conservation.
UCSB Research Experience and Education Facility

Third, fourth and fifth grade GATE students learned about local marine ecosystems through hands on exploration activities. Students also visited the university dorms at Santa Rosa Hall where they had an opportunity to ask questions about university life.
We had a great time on our gate field trip!